Spes Nova at Ignatian Family Teach-In for Justice 2019 in Washington D.C.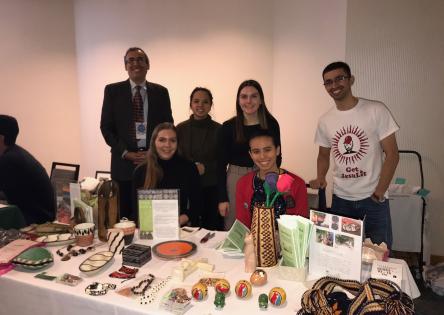 November 20, 2019
/
Comments Off

on Spes Nova at Ignatian Family Teach-In for Justice 2019 in Washington D.C.
On December 15-17, Spes Nova Inc. sent our founder, Dr. Erick Rengifo and four students (Ngan Tran (IPED 2020), Victor Sapkota (IPED 2021), Alison Stauffer (Gabelli 2021) and Jessica Sudol (2022)) from Fordham University to the Ignatian Family Teach-In for Justice 2019 in Washington D.C. The conference was a great opportunity for Spes Nova to engage in discussions with the Ignatian family in the context of social justice and solidarity. 

Dr. Rengifo and three members of the steering committee, Ngan, Victor, and Alison also had the opportunity to present at one of the breakout sessions. During the session, they elaborated Spes Nova's three-pillar approach, the vision of building a network of academic institutions, our current partnerships with universities around the world as well as technical advice on how to set up a chapter. The presentation accentuates Spes Nova's mission: building a pathway towards sustainable and inclusive development for the working poor around the world. It was well received by the audience, and several students as well as representatives from campus ministry expressed interest to join the Spes Nova family!
As one of the sponsors for this great gathering, Spes Nova also had the opportunity to showcase our products at an exhibition booth throughout the event. Several participants of the Teach-In stopped by our table, and were really impressed with the quality as well as cost transparency of our products. It was encouraging for us to see how customers, one of our intended stakeholders, really enjoyed buying high-quality and ethically-sourced artisanal products from around the world.  
Spes Nova will keep looking for opportunity to engage in meaningful discussion like the Ignatian Family Teach-In for Justice. We look forward to building partnerships with Jesuit universities in the U.S. as well as overseas in order to help local enterprises to uplift their families and communities!