Spes Nova Lecture Series and Networking Event Held at Fordham University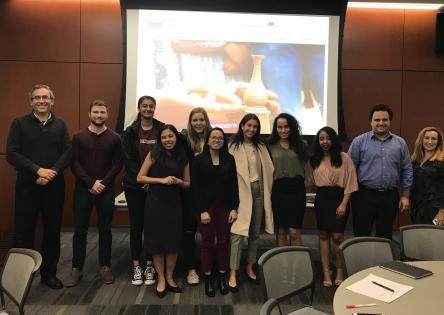 November 29, 2018
/
Comments Off

on Spes Nova Lecture Series and Networking Event Held at Fordham University
Last November 27, Spes Nova Inc. organized a lecture and networking event for its university chapters at Fordham University. The event raised issues pertinent to the business model that Spes Nova has, and opened opportunities for collaboration in the future.
The lecture series first featured Dr. Michael Pirson who discussed the difference between economic and humanistic-based business models. The lecture and the discussion provided a good framing of how business models changed through time, and how we transition from business that solely focuses on profit-maximization to one that considers impact—both social and planetary—with emphasis on upholding human dignity.
Ms. Andra Tomsa, Fordham alumna and founder of Spare USA, followed with her discussion on the problem of hunger and how her organization tries to address this. First, she covered the several misconceptions about food stamps, emphasizing how these misconceptions need to be clarified to the general public. She also touched on the importance of public policy, particularly on how the budget for the Farm Bill needs to continue to support programs like food stamps. She then shared the journey of Spare USA, how incremental giving can aggregate to affect real change in the community.
Finally, Dr. Erick Rengifo spoke about Spes Nova. He began with the idea that sparked him to create the organization: addressing the high interest rates offered in microfinance. He discussed the concurrent problems in microfinance, and how Spes Nova tries to address these by leveraging university partnerships to support local artisans in developing countries. Spes Nova offers low interest rates, creates a clear credit history with its artisans, and aims to provide an end-to-end solution to its clients: focusing not only on financial flow, but from market development to microinsurance.
After the lectures, the Spes Nova Chapters from Fordham and St. Thomas Aquinas College met to discuss each chapter's activities and challenges. The discussion underscored both universities' recognition of the potential of the business model. They are both working towards generating more interest in their universities, that will hopefully scale up the efforts done by its student volunteers and dedicated faculty. Both universities also envision more avenues for collaboration, not only between Fordham University and St. Thomas Aquinas College, but with other universities in the Spes Nova network.